Location of Kapasa Makasa University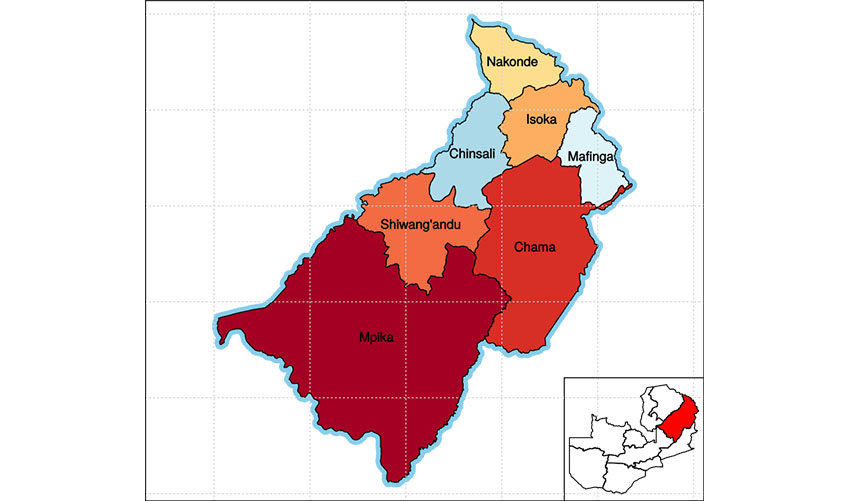 Kapasa Makasa University is probably the only public university located outside the line of rail in a remote rural part of Zambia called Muchinga Province (87,714.15km²). According to the Muchinga Provincial Administration (https://www.muc.gov.zm/?page_id=4914), the province was established in November 2011, is the fourth largest province of Zambia and has a population of about 895,000. It is located in the northeast of Zambia and border Tanzania in the north, Malawi in the east, Eastern Province in the east, Central Province in the southwest, Luapula Province in the west, and Northern Province in the northwest. Chinsali is the administrative center, provincial headquarters. The name Muchinga originates from the Muchinga Escarpment on which it predominantly sits. The province is elongated from southwest to northeast and is located on both sides of the Muchinga Mountains (Muchinga Escarpment).
Establishment History of Muchinga Province
The rivers of the province drain to two key basins, the Congo and Zambezi basins. The key rivers of the province are the Luangwa River, a major tributary of the Zambezi, and drains to the Zambezi basin while the Chambeshi River which is a tributary of Lake Bangweulu drains into the Congo basin. The local people understood this geography and named a plain that drains into both basins as Munwapabili (he/she who drinks or drains into two). Lavushi Manda National Park (est. 1941; 1,500 Km²), North Luangwa National Park (est. 1938; 4,636 Km²), and South Luangwa National Park (est. 1938; 9,050 Km2) constitute the three national parks located in the province. South Luangwa National Park is shared with Eastern and Central Provinces.
The Vegetation and Wildlife of Muchinga
The Muchinga escarpement (-13.6933° or 13° 41' 36" South; 30.9826° or 30° 58' 57.3" east; 932 m average altitude) is a breath-taking landscape of rolling hills and green vegetation which largely remains unspoiled. The vegetation of the Muchinga escarpment consists of the northern wetter miombo (Brachystegia (B. spiciformis - B. utilis) woodlands with Julbernardia paniculata and Parinari curatellifolia as common canopy co-dominants and Monotes africanus, Syzygium guineense macrocarpum and Uapaca spp. as common understorey taxa) and the eastern drier miombo (Brachystegia manga - Julbernardia spp. woodlands with Diospyros spp., Diplorhynchus condylocarpon, Ochna spp. and Pseudolachnostylis maprouneifolia as common understorey taxa)(Forestry Department, 2016; https://www.mlnr.gov.zm).
The province is rich in mammals, birds, fish, reptiles and amphibians, and insects. It has areas that have been classified as important bird areas by Birdlife International. Important wildlife includes Leopards, Lions, Elephants, Buffalos, Hippos, Giraffes, Zebra and Rhinos which had to be re-introduced. South Lwangwa National Park is one of the best known parks for walking safaris in Africa and boasts of an international airport within the park as well as good accommodation.
The Population and History of Chinsali
The population of Chinsali is estimated at just over 86,723, and 14.2 persons per square kilometer, distributed over a recently urbanizing area. Chinsali district has been known to have traces of precious stones and rare earth minerals, diamond and titanium. The name Chinsali originates from the beating of music drums (https://m.facebook.com/patrioticfrontzambia/posts/2717994458435350) traditionally known as Insali that compelled listeners not to resist dancing. This therefore resulted in people calling it as the place where this kind of special musical instrument is found. However, Chinsali is unique in Zambia as it has referral and proverbial name, Kwitonta Ukushuma Lubanga. Lubanga is a rare indigenous cultivated vegetable found in the northern provinces of Zambia and is botanically known as Cleome gynandra). It has a very rich aroma and a slightly bitter taste to the tongue when cooked. It enjoys massive demand when marketed and is rare due to both high demand and low supply.
Chinsali is a historically rich and unique town. Amongst its historical excellence is that it is the birth place of Zambia's first Republican President, Kenneth David Butizya Kaunda (MHSRIP); birth place of Zambia's first Minister of Home Affairs and 2nd Vice President of Zambia, Mr. Simon Mwansa Kapwepwe; birth place of Rev. Paul Bwembya Mushindo (https://zambianobserver.com/who-was-paul-mushindo/) who was a ministers of the church, educationists, writer, and politicians and was honoured by King George of England in 1947 for his contribution to society. Paul Mushindo spent 53 years translating the Bible from English into iCiBemba. He spent over 30 years without wearing shoes, not because he could not afford it but because of his experience and conviction. The Reverend was responsible for the sponsorship of the late Harry Mwaanga Nkumbula's studies at Makerere University in Uganda. Chinsali is also the birthplace of Alice Lenshina who was a Christian religious leader who founded the Lumpa Church.
One of the rare events witnessed in the history of Zambia was the assembly of three Presidents at the burial of Mrs. Salome Kapwepwe, wife to the late Mr. Simon Mwansa Kapwepwe on 13th May 2017 in Chinsali. Then President, Mr. Edgar Chagwa Lungu, was accompanied by 1st Republican President Dr. Kenneth David Kaunda and 4th Republican President Mr. Rupiah Bwezani Banda to the burial ceremony at the Kapwepwe farm in Chinsali.
It is also the only rural area to be designated to have two public universities in Paul Mushindo University and Kapasa Makasa University.
Access to National Parks and Other Attractions from Kapasa Makasa University
Visitors to Kapasa Makasa University have a range of opportunities to visit some spectacular natural and historical sites. All the sites can be reached within a day's drive; the Luangwa national parks that can be only be accessed using an offroader with the journey taking longer during the rainy season especially when the access roads are not worked on. The sites include
Lakes: second deepest lake in the world, Lake Tanganyika with access to Nkamba/Ndole, Nsumbu and Kasaba Bays resorts.
Waterfalls: breathtaking waterfalls (Lumangwe Falls– second largest in Zambia; Chishimba Falls – one of the unique falls made up of a series of three waterfalls along the Luombe River, the Mutumuna, Kaela, and Chishimba falls; Kalambo Falls – which is the 2nd highest falls in Africa and 12th highest in the world where a single uninterrupted stream of water falls' down 221 meters into a gorge below that leads into Lake Tanganyika. The falls provides a habitat for the rare Maribou stork that nest in the gorge of the Kalambo Falls).
Hot springs: Kapisha Hot Springs in Shiwang'andu and Mayuke hot spring in Chinsali districts.
National Parks: Lavushi Manda National Park, North Luangwa National Park, and South Luangwa National Park.
Historical sites: Birthplace of Zambia's first republican president (at Lubwa Mission in Chinsali). Old Fife in Nakonde district – Old Fife is a historic place established in 1895 when it served as a boma under the
British colony. Here, the British and the German fought during the World War 1 (WW1) and many casualties were buried in mass graves. The prominent grave is that of Major Heinrich Von Berg a German Commander. Lenshina Burial Place in Chinsali district – Alice Lenshina was a Christian religious leader who founded the Lumpa Church. The church's drive for membership was seen as a political threat by the colonial Northern Rhodesia government. About a thousand people died in the clashes between Lumpa Church adherents, UNIP's members and Zambia's security forces in July to October in 1964. Mwenzo Mission in Nakonde district – The Pioneer Mission for the United Church of Zambia established in 1898 by Rev. James Alexander Chrisholm of the Free Church of Scotland. The first Post Office building in Zambia was built in 1900 and the site is rich with history and architectural beauty. Zwangendaba's Grave in Nakonde district – The wars of Shaka Zulu of South Africa, resulted in a group of people that ran away from Shaka with Zwangendaba as leader and his Ngoni people. Zwangendaba died in 1848 and was buried in Nakonde district on the Nakonde-Mbala Road, about 1 km south of Nachipeta School. Nachikufu Cave in Mpika district – The Cave is a pre-historic archaeological site used by the Bisa and the Lala people during the Bemba and Ngoni raids in pre-colonial times as a haven. Valuable archaeological and scientific information that dates to about 15,000 years ago is found at the site. (historical information obtained from https://www.muc.gov.zm/?page_id=4490).
Online Application Closed.